The Site and our mobile application may contain links to affiliate websites, and we receive an affiliate commission for any purchases made by you on the affiliate website using such links. We are also a participant in the Amazon Services LLC Associates Program, an affiliate advertising program designed to provide a means for us to earn advertising fees by linking to Amazon.com and affiliated websites.
---
Elijah, Acrobat + Hannah, Athletic Trainer
One sentence sum up of the wedding vibe: Styled family getaway with cocktails, laughter, and celebrations!
Planned Budget: 10,000
Actual Budget: 12,000
Number of Guests: 15
Location: The Brasenhill Mansion, Lebanon, PA
Photographer: Barbara O. Photography
Where we allocated the most funds: Photography, venue, food/drink.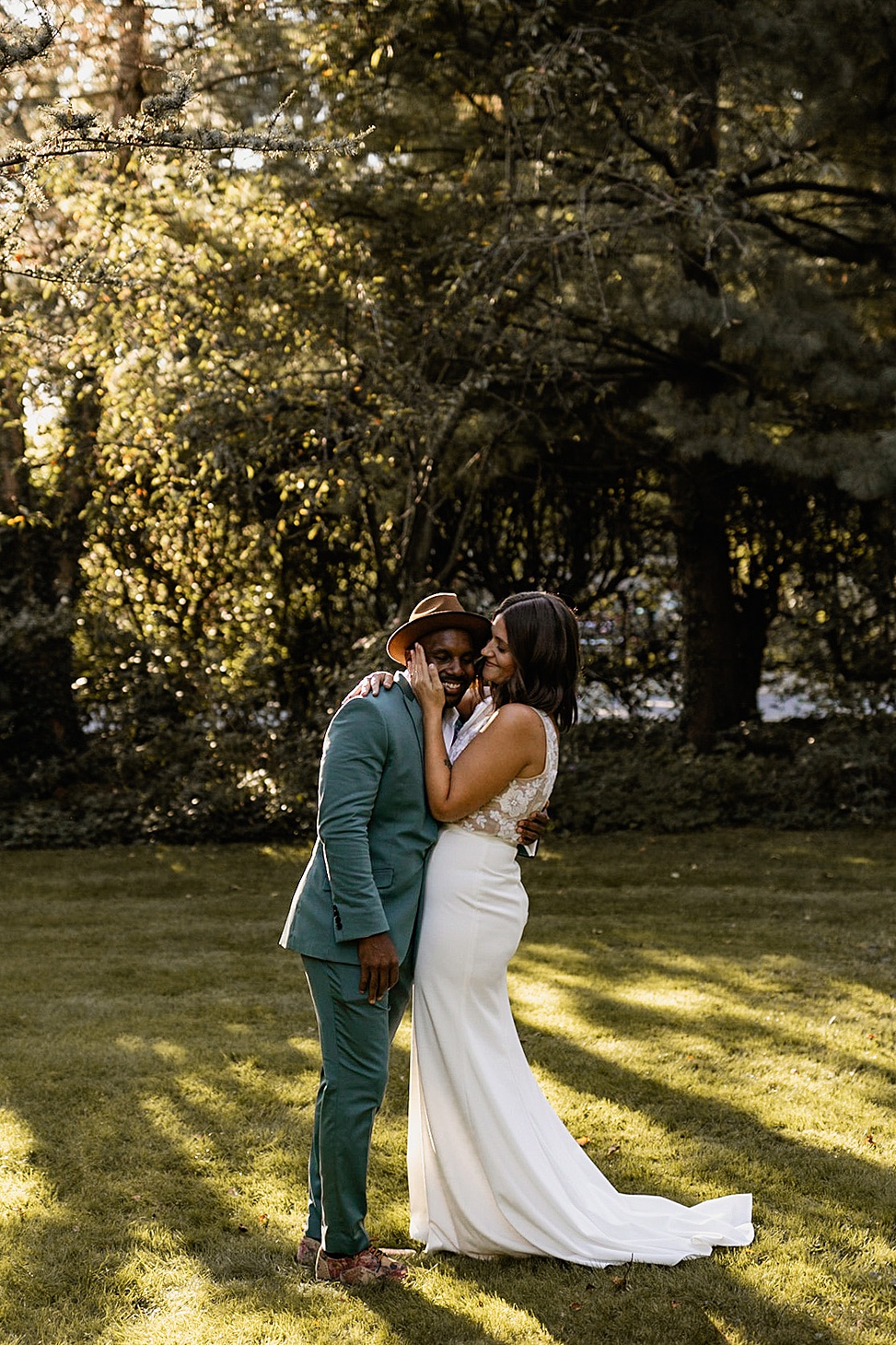 Where we allocated the least funds: Calligraphy, Hannah is a calligrapher and did all hand lettering for the place cards and cocktail sign. Hats, discounted through groom's partnership with Goorin Bros. Table and archway, built by Hannah's brother. Centerpieces, allocated floral budget to bride/bridesmaids bouquets, arch installation. The centerpieces were styled by Hannah and her mother, using flowers from Hannah's mom's garden. Music, we made a playlist and Hannah's father sang while we walked down the aisle. Hannah also did her own hair and make up.
What was totally worth it: Our photographer, Barbara O. Photography. Photography was one of our top priorities since we knew we'd be looking back at these for the rest of our lives; Barbara was worth every penny. She perfectly captured every moment of our wedding so we didn't feel the need to hire a videographer. And our flowers. Have you seen them?? Having Becca from Loca Flora Design create our bouquets and floral installations brought so much life and personality to the ceremony (and photos!). If you're wondering if flowers are worth it, we think they are!
Having a very small and intimate wedding we forwent a lot of traditional wedding elements (wedding planner, videographer, hair and makeup, guests outside of the family, etc.). Everything we chose to do for the wedding was intentional and we had a ton of help from friends and family to make it happen. It was all totally worth it.
A few things that helped us along the way: First and foremost, having a wedding in the pandemic, both of our families were willing to quarantine prior to the wedding to insure a safe and healthy weekend. It was a success!
We had a ton of help on all aspects from friends and family. We are fortunate to have close friends and family who design floral arrangements, cook gourmet food, bake delicious cakes, and build beautiful tables. We quite literally could not have done the wedding without them.
My best practical advice for my planning self: There are no rules. When planning everything it was easy to fall into trying to plan what we thought we "should" be doing, but there are no rules—it's your day, do whatever you want. The day is about you and your spouse, don't feel the need to cater to everyone who will be there. They'll have a great time regardless.
If you want something spontaneous to happen, you still need to plan it. We didn't want a structured wedding that made us feel rushed through the day, but we still wanted speeches or dances to happen in a natural way. Those things still needed to discussed and "planned" even if you don't have a strict plan for it.
You don't need to spend a lot of money to make your wedding exactly what you want. We had a vision for our day and thinking outside the box to bring that to fruition made it personal, unique, memorable, and just downright beautiful. Being flexible with how things came together helped make it what it was.
Favorite thing about the wedding: Both of our families were able to stay at the venue for the entire weekend. Since they were meeting for the first time, having so much time to get to know each other without the pressure of mingling and entertaining was amazing. Otherwise, every detail about the wedding was perfectly us and we couldn't have asked for more.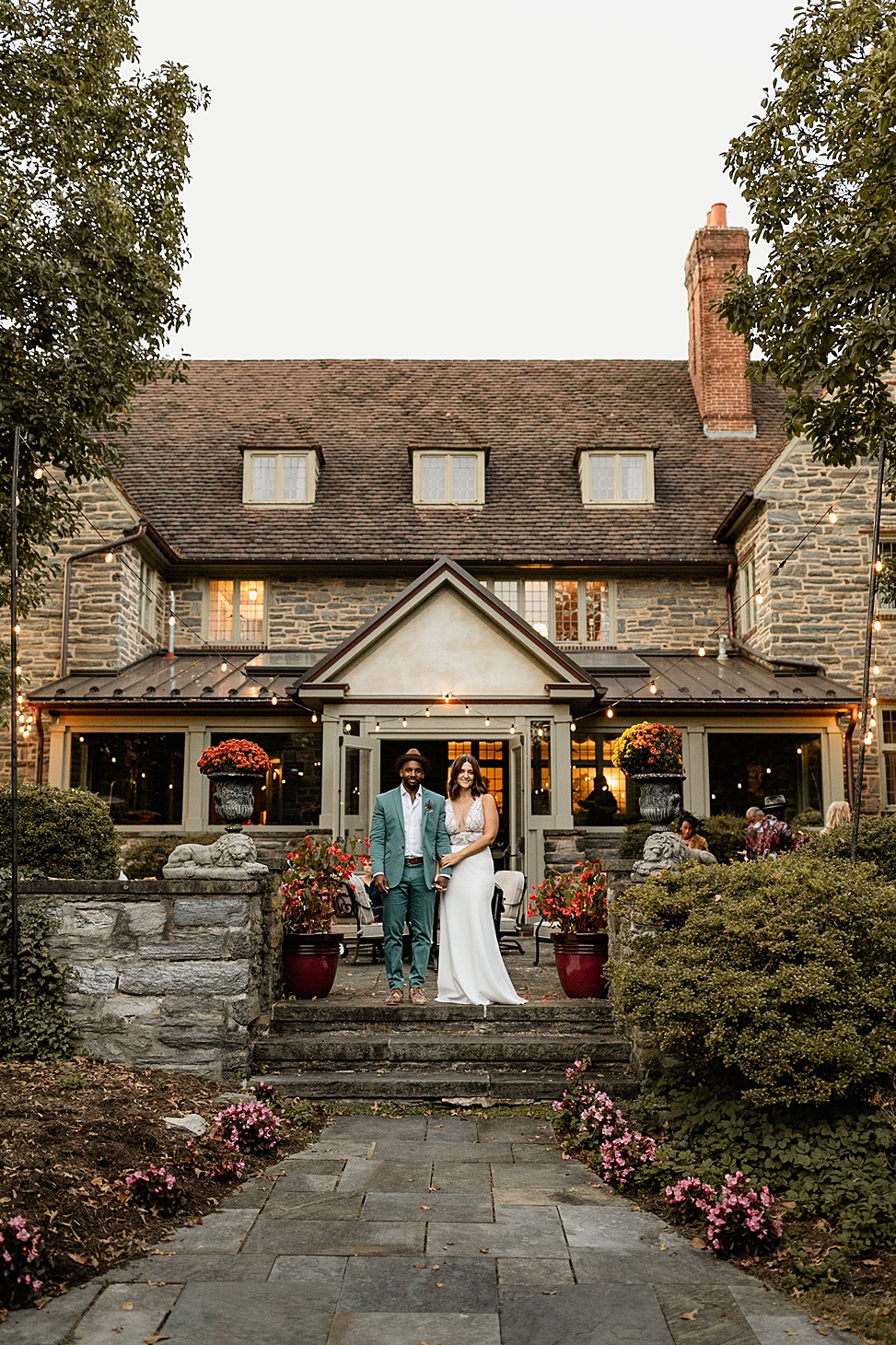 Anything else: Some special touches we had on our day included:
We walked down the aisle together, symbolizing walking into our marriage as a partnership.
We wrote letters to each other to read before the ceremony in lieu of vows. We read traditional vows to each at the ceremony.
During the ceremony before we were pronounced man and wife, our families gathered around us and prayed over us and our marriage.
We had a first look which allowed an intimate moment together before the ceremony: our wedding gift to each other was a hat pin. Not knowing what the other person was gifting, we ended up gifting each other our favorite flowers. (The bride gave groom a lavender pin, the groom gave bride a peony pin)
Had a family style dinner: everyone sat at one long table and passed food around like a big holiday dinner. It was incredibly frustrating and absolutely perfect, truly felt like family
Hannah's ring was created from scratch by Elijah. The engagement ring has a raw cut salt and pepper diamond hand picked by Elijah. The sterling silver bands were created from the Hannah's grandmother's engagement ring. Elijah wanted to create a ring that is timeless.