The Site and our mobile application may contain links to affiliate websites, and we receive an affiliate commission for any purchases made by you on the affiliate website using such links. We are also a participant in the Amazon Services LLC Associates Program, an affiliate advertising program designed to provide a means for us to earn advertising fees by linking to Amazon.com and affiliated websites.
---
Kimber + Brendan
One sentence sum up of the wedding vibe: Our golden hour minimony in the Marin Headlands
Planned Budget: $4K
Actual Budget: $4K
Number of Guests: 2: just us, plus our friend/officiant, and another friend who helped shoot a video via iPhone
Location: Marin Headlands, Sausalito, California
Photographer: Vivian Chen
Where we allocated the most funds: It was important to us to have beautiful photographs to share with our loved ones who couldn't be there because they live out-of-state and overseas.
We also splurged on a decadent wedding dinner with Wagyu steak from The Butcher Shop in San Francisco and Tartine Bakery's Passion Fruit and Lime Bavarian Cake.
Where we allocated the least funds: We didn't allocate anything toward hair and makeup. I was really on the fence about it since I'm terrible at doing my own makeup, but because we didn't want to feel too fancy and I wanted to err on the side of looking like myself vs. overly done-up, I decided to go the DIY route. I gave myself a facial a few days before our minimony (highly recommend Drunk Elephant's Babyfacial followed by your favorite moisturizing mask— I like the OSEA White Algae one). And because it's been months since I've had a haircut, I did an Olaplex treatment at home while taking a bath. The self-care was also a good way to de-stress!
We would have invested in flowers, but actually received a surprise floral gift from my mom, who had them done by a florist in San Francisco, French Tulip. They were able to accommodate our very last minute request and did a beautiful job accommodating our ask for peach and cantaloupe hues.
What was totally worth it: Our investment in photography was totally worth it! We found Vivian Chen when Googling "Marin Headlands elopements" and her work matched what we were looking for perfectly—soft golden hour light, dramatic shots of all that gorgeous Bay Area scenery, a little moody and romantic (but still natural and still us!) Vivian also donates a portion of her monthly profits to a number of social justice organizations, which cemented our decision to go with her.
What was totally not worth it: Nothing! We'd already pared down the day to only the most important elements, so everything we spent money on felt totally worth it.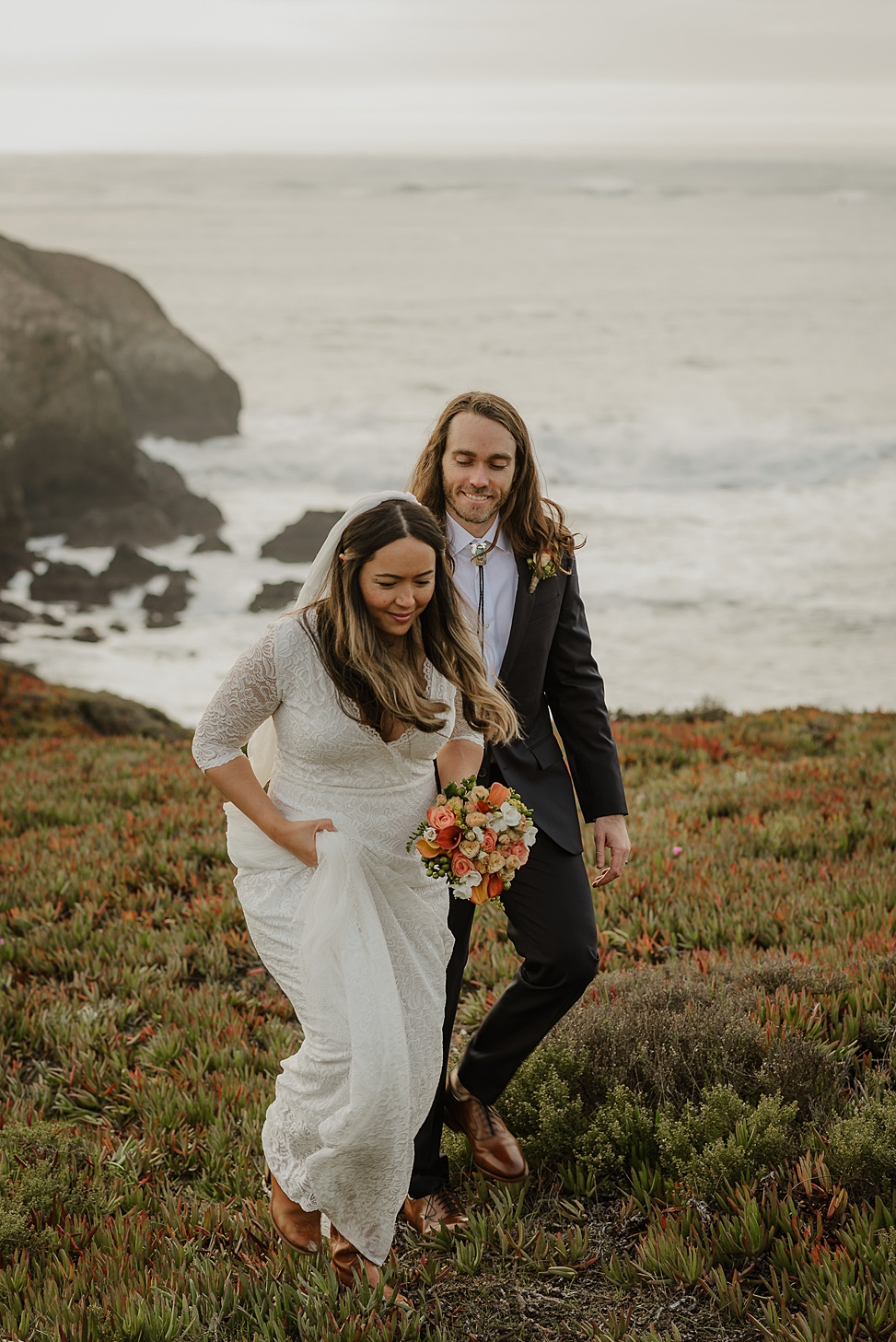 A few things that helped us along the way: Our good friend and officiant, Susanne, was so helpful running us through the flow of the wedding day and ceremony. She also runs her own event design & planning company, Chantal Events, so she's an expert at weddings! Susanne asked us great questions to help us think about what elements were most important for us in our minimony.
My best practical advice for my planning self: While it's certainly possible to plan a minimony in two weeks, it's FAR less stressful to give yourselves more time. We would probably have planned a few months in advance in retrospect.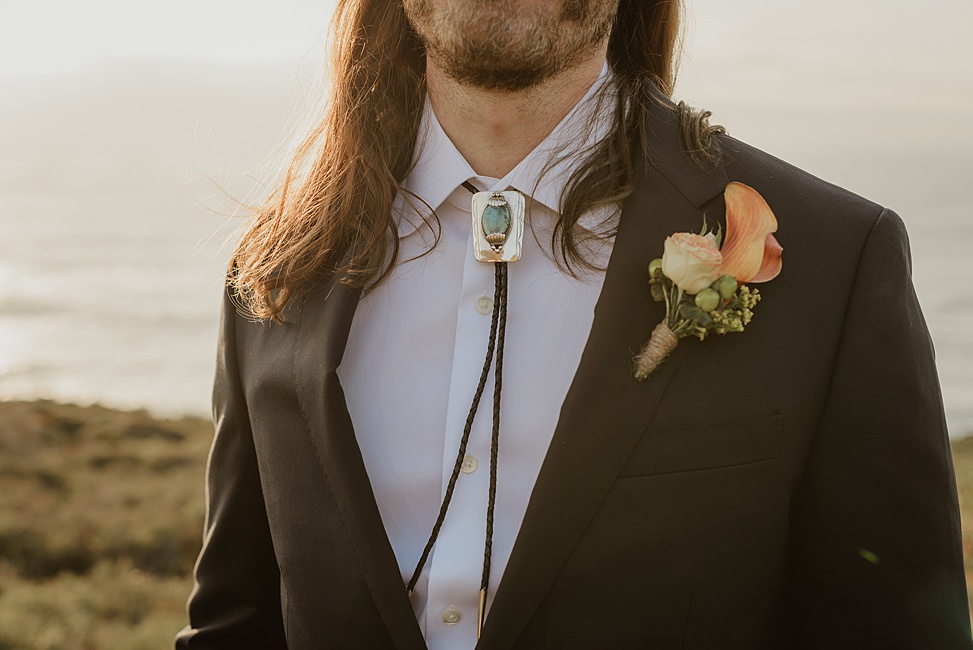 Favorite thing about the wedding: Our vows! When we originally sat down to write our vows we did it separately and found it really challenging. At some point, we started to talk about how it might actually feel better to write them together, and be in 100% agreement on the commitments we wanted to make as a couple to each other and to our community. Co-writing our vows actually ended up being the easiest part of the entire wedding planning process and we were very much on the same page with the parts of our relationship that we wanted to honor and continue and the parts we wanted to keep working at together. We also wrote short letters to each other, which we shared out loud, then took turns reading the commitments we'd written together.
Anything else: We planned our minimony in two weeks so everything was done beyond last minute! Originally, I thought I'd just wear a dress from my closet, but as our wedding day got closer I had a last minute change of heart and decided I'd try to go for a more bridal look. After scouring the internet and panic-buying a few dresses that weren't quite right, I decided to take a gamble and ordered a dress via Etsy, from a designer based in Israel. She was incredibly helpful and responsive and rush shipped the dress so it arrived within two days. The dress was beautiful and exactly what I was looking for. One of the memories I'll cherish the most is of Brendan (who is a whiz with a sewing machine) making a few last minute alterations to the dress so it fit perfectly!
I think everyone knows planning a wedding is hard and planning one (or replanning) during a pandemic is even more challenging. After postponing our original wedding in Hawaii after the pandemic hit, we tried to see this minimony as an opportunity to do something very different from our original plan—a deeply personal moment of commitment that was just for us, in the most insanely beautiful spot we never would have been able to use with a larger group. And eventually, we'll still have a celebration with family and friends when they can safely travel—that will be beautiful too!